Reviews

for Wonders of Geology
Education World
What does it promise?
A breathtaking view of America's mountain ranges from an award-winning photographer, as well as the science behind these natural wonders.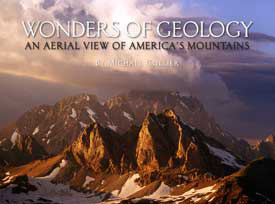 Does it deliver?
more >
Kirkus Reviews
A captivating introduction, technical but not difficult, to the rumblings within the Earth that produce the world's mountains. Few readers will ever have the experience of flying over Denali/Mount McKinley, fewer still in a 1955 Cessna 180. Pilot, photographer, writer, geologist and medical doctor Collier, the owner of that craft, writes that it has "carried me from Fairbanks to Honduras, from Bangor to Baja." As he traverses the skies, he has been photographing the geologic features he encounters.
more >
Download the Universe: The Science Ebook Review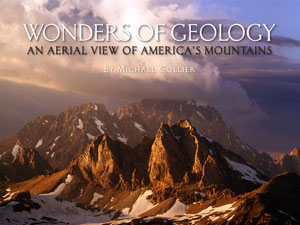 "All true paths lead through mountains." When I was growing up in the foothills of the Sierra Nevada, this line from the poems of Gary Snyder was a family touchstone. It probably came via my dad, who is mountain-obsessed, a chaser of summits and cirques who has hiked and trekked on five continents and now lives in the Alps. I've felt vaguely uneasy the past eight years or so, living here among the extremely low hills of the Eastern United States, and the photographs of Michael Collier, in the Wonders of Geology app, bring it all back: Yes, mountains really are where it's at.
more >
Geekdad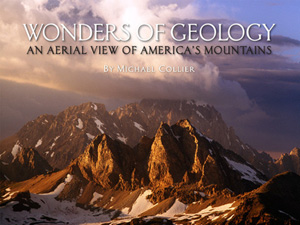 Educational apps that teach something to everyone, no matter what age, are great for filling your iPad. By now I've accumulated a decent collection of them, but I only recently discovered one that teaches basic geology, from mountain building to plate tectonics to the rock cycle.
more >
best apps for kids.org
What a fantastic job this author does with this app! Michael Collier is a geologist as well as a photographer and this man knows how to make it fun and enticing.  His love for Geology beams from him as does his desire to share this information.
more >
Famigo
"Who knew geology could be so enthralling?" a reviewer wrote about Michael Collier's award-winning photographs. Now, on the iPad, his images are even more dazzling. But Wonders of Geology is not a coffee table app. Michael Collier is a geologist as well as a photographer. His images inform as well as delight. As we swipe through each photograph, we hear Collier's smooth, accessible narration telling us where to look on the mountain, what to look for and what it means.
more >
AppleGazette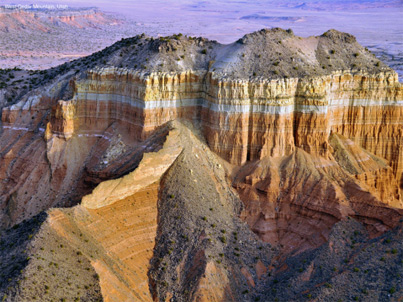 At first pass, you might think that The Wonders of Geology exists purely to show off the incredible photography of Michael Collier. While that's certainly a good reason, it also functions as an excellent textbook, sure to instill enthusiasm for geology into any student.
Michael Collier is more than a photographer. He's a geologist, too. Read his words or listen to him speak, and you'll hear the kind of passion that a cook might use to talk about their favorite recipes.
more >
Pad Gadget
Wonders of Geology An Aerial View of America's Mountains, a new iPad book written, photographed, and narrated by Michael Collier blends the sweeping scale of a coffee table tome with the didactic ease of a PBS special. Readers are sure to learn, and yes, even be entertained, by Wonders of Geology's stunning images and well-written text. The iPad app was adapted from Over the Mountains: An Aerial View of Geology.
more >
Guru Magazine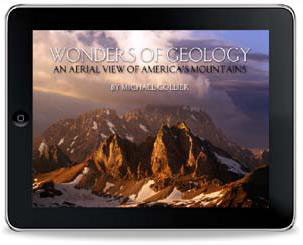 The only rock I ever thought was entertaining was the loud, distorted guitar variety. Mind you, the hard candy type isn't too bad either. The prospect of a book on the grey and brown lumps in the ground is assured to fossilise anyone's fun faculties – except geography teachers, of course. Or so I thought…
more >
Touch and Go, School Library Journal Blog
Breathtaking visuals, a concise text, and a narrated tour of some of the most spectacular natural sites in the United States make the Wonders of Geology a production to behold. The app is adapted from Michael Collier's
Over the Mountains
… In his introduction to the app, the author notes "Aerial photography is the pursuit of perfect light" and it's clear that in this title that he has captured it many times over. Collier narrates his illustrated tour of geological formations, taking viewers from Hawaii and New Hampshire to Alaska and Virginia.
The app is beautifully designed. A discreet tag indicates the location of each site and a menu can be accessed by tapping on the bottom of the screen. Pages flawlessly slide backward or forward.
While viewers can just sit back and enjoy the images and narration, this engaging presentation goes beyond the basics and will be a perfect resource for secondary (and older) students of earth science and geology.

Earthly Musings
…Collier's unique tri-part combination of being a geologist, a photographer and a pilot that make "Wonders of Geology" a truly breathtaking tour of North America's mountains. There is perhaps no better way to see and learn about mountains unless you become a geologist, a photographer and a pilot, all in the same life.
In "Wonders of Geology", we learn how mountain chains were created by uplift and see how they have been sculpted by erosion and carved by glaciers. The download would be well worth the $12.95 asking price even if it only included Michael's 240 photographs. But the program is also well illustrated with numerous diagrams, maps, and figures developed by Tasa Graphics in Taos, New Mexico. These are used to blend what you see in the photographs and hear in Michael's own voice-overs, teaming together to make the learning pleasurable and easy. There are various "chapters" that can be easily navigated to from a prompt on the bottom of the screen.
Geologists themselves will know most of the subject matter in the program and it is not meant to be anything more than an introduction to the "wonders of geology". But even if you are a professional already, you could easily utilize this when teaching family or friends about your world view. It is an excellent way to grasp difficult concepts in a meaningful and fruitful way.
Reader's Reviews

by Blacklight Sam
This is a spectacular app in every respect. I teach the occasional geology class and there simply is no resource with photographs and illustrations like this. It does not cover petrology or mineralogy but for geomorphology, it is the most amazing collection of perfect models of concepts that I've ever seen. The hundred thousand authors of so many lame apps should use this a model of the proper way to use an iPad. Unbelievable.
The landscape, explained


by LSLibn
Photographer and geologist Michael Collier combines his aerial images with text, narration, and animation graphics to explain fundamental geologic processes. You won't find a clearer presentation of how the earth works, or how the landscape we see beneath us when we fly is produced. A must for earth science students, and earth-poetry for the adult naturalist.
Awesome!


by Star Nav
Beautiful... and inspiring.
Outstanding


by rkmark
Not to be missed!